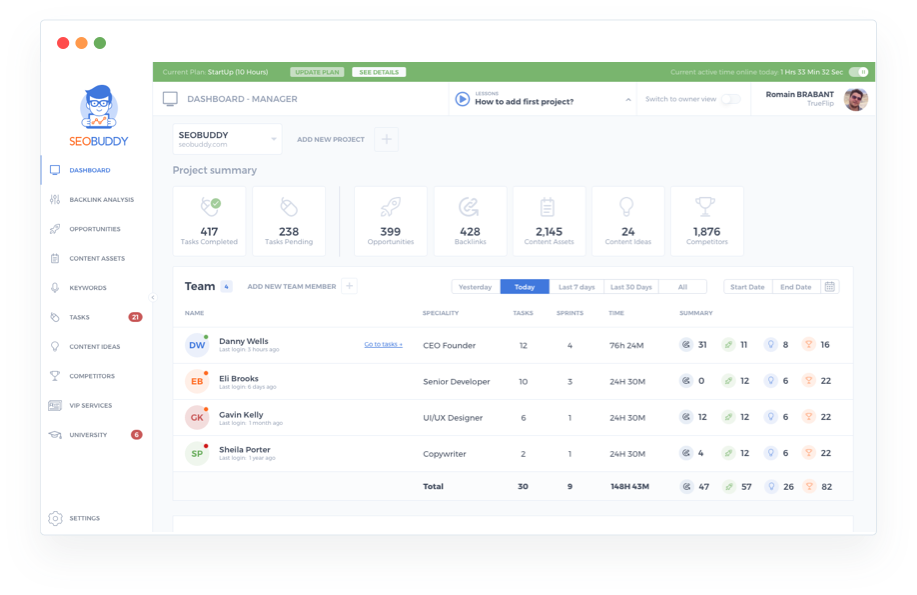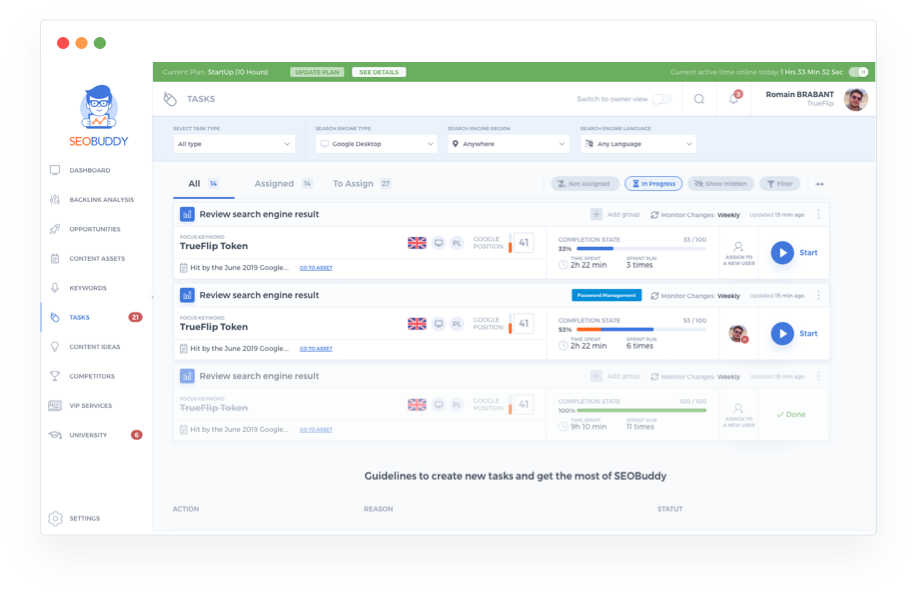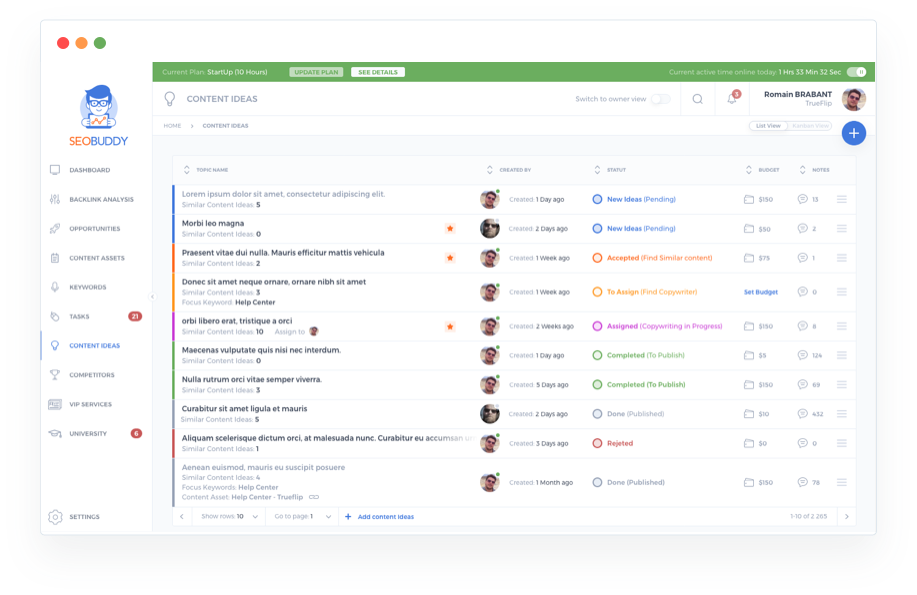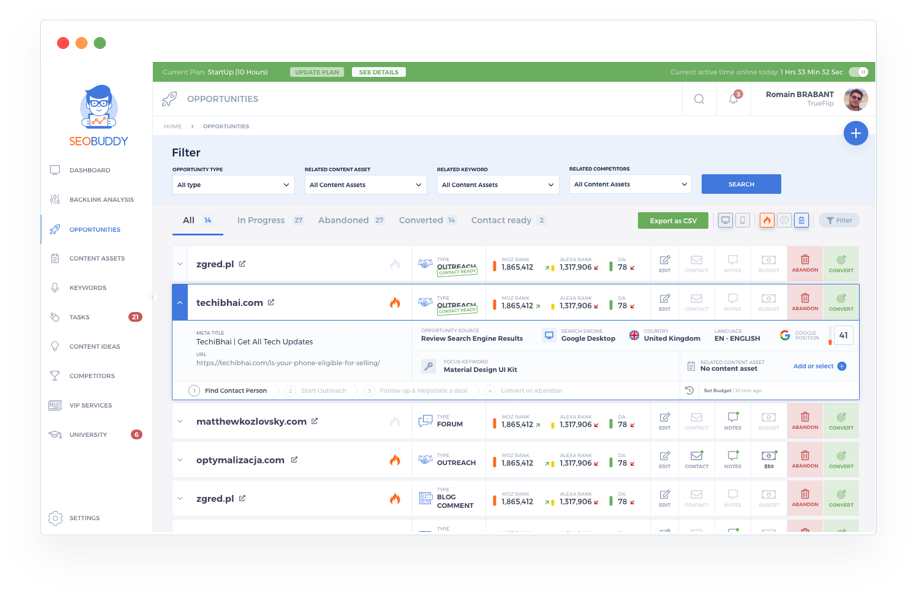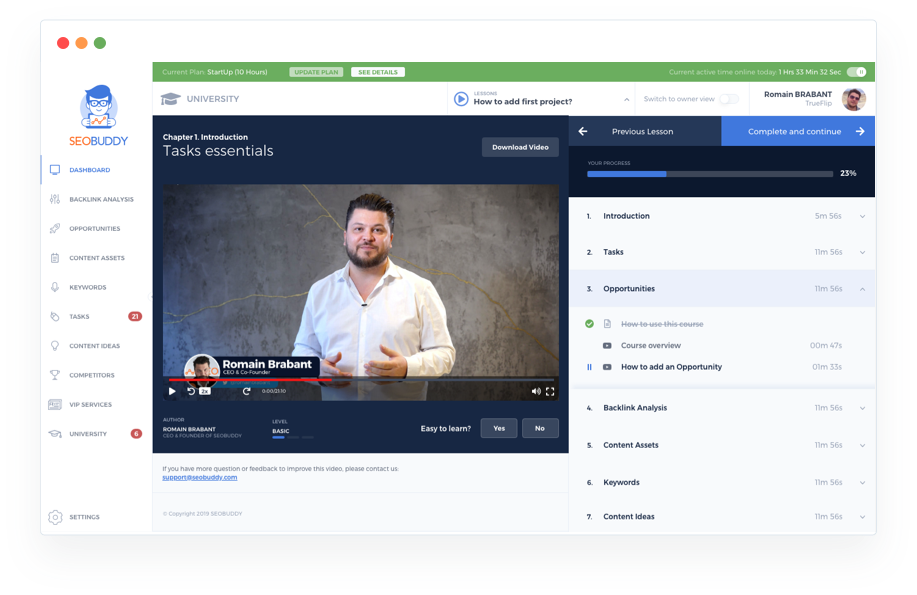 THE PROBLEM
SEO isn't rocket science.


But it's not easy to be successful

It's hard to stay organised, stay focused and stay consistent, so most businesses struggle and eventually give up. Do any of these sound familiar?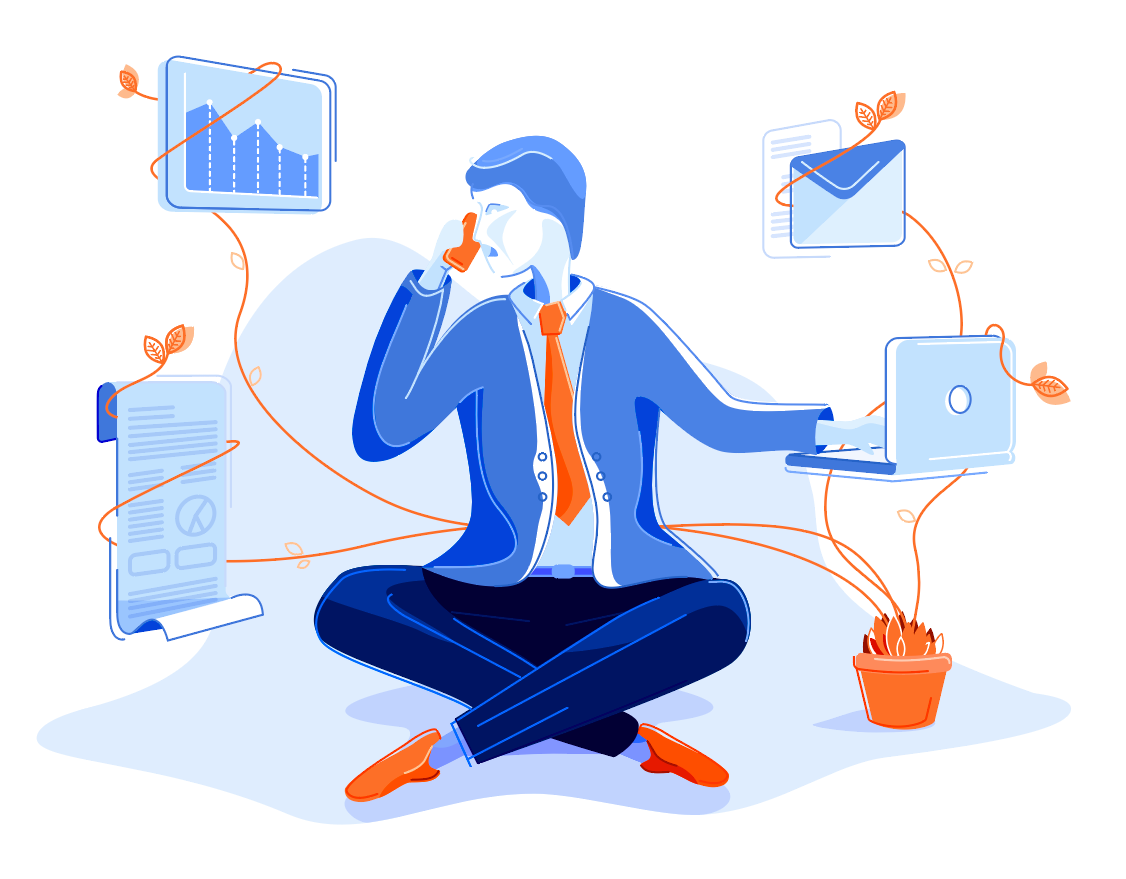 "I'm already so busy,
it's hard to stay on top of all the SEO stuff, too."
What if instead of feeling overwhelmed you started each day with a simple set of SEO tasks ready to complete?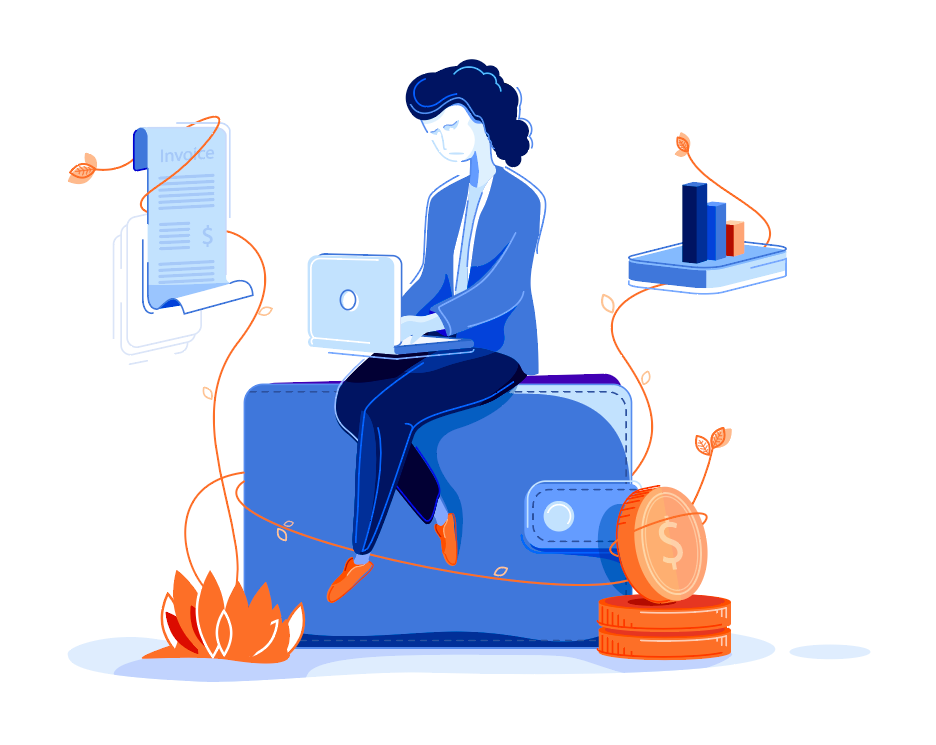 "I don't have a giant budget, and SEO agencies ain't cheap."
What if instead of expensive SEO agencies your team could handle all the work for a fraction of the cost?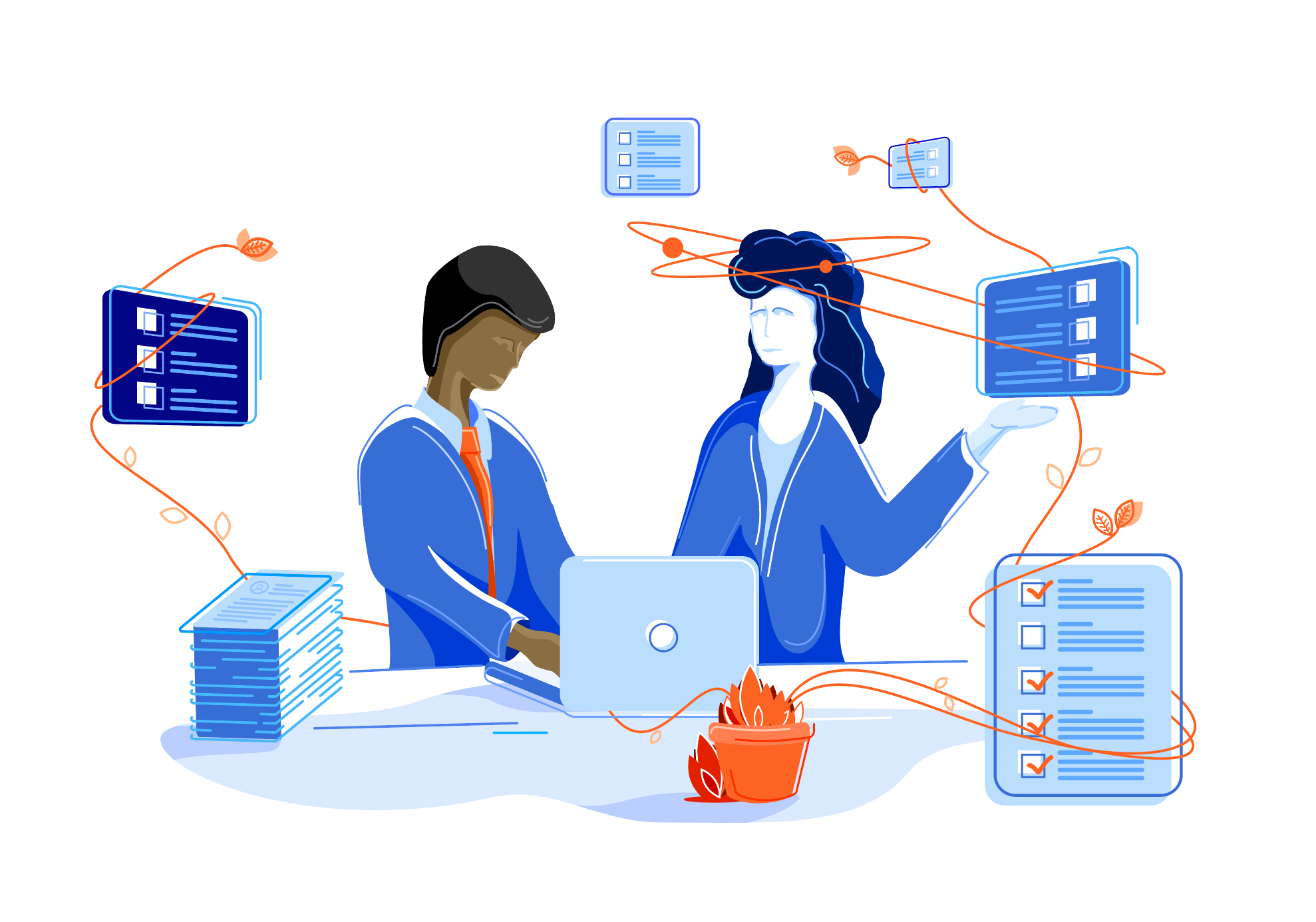 "I struggle to keep track of who's doing what and when in my team."
What if you could see what everyone was doing at a glance? And what if it was easy to train, manage and motivate your team?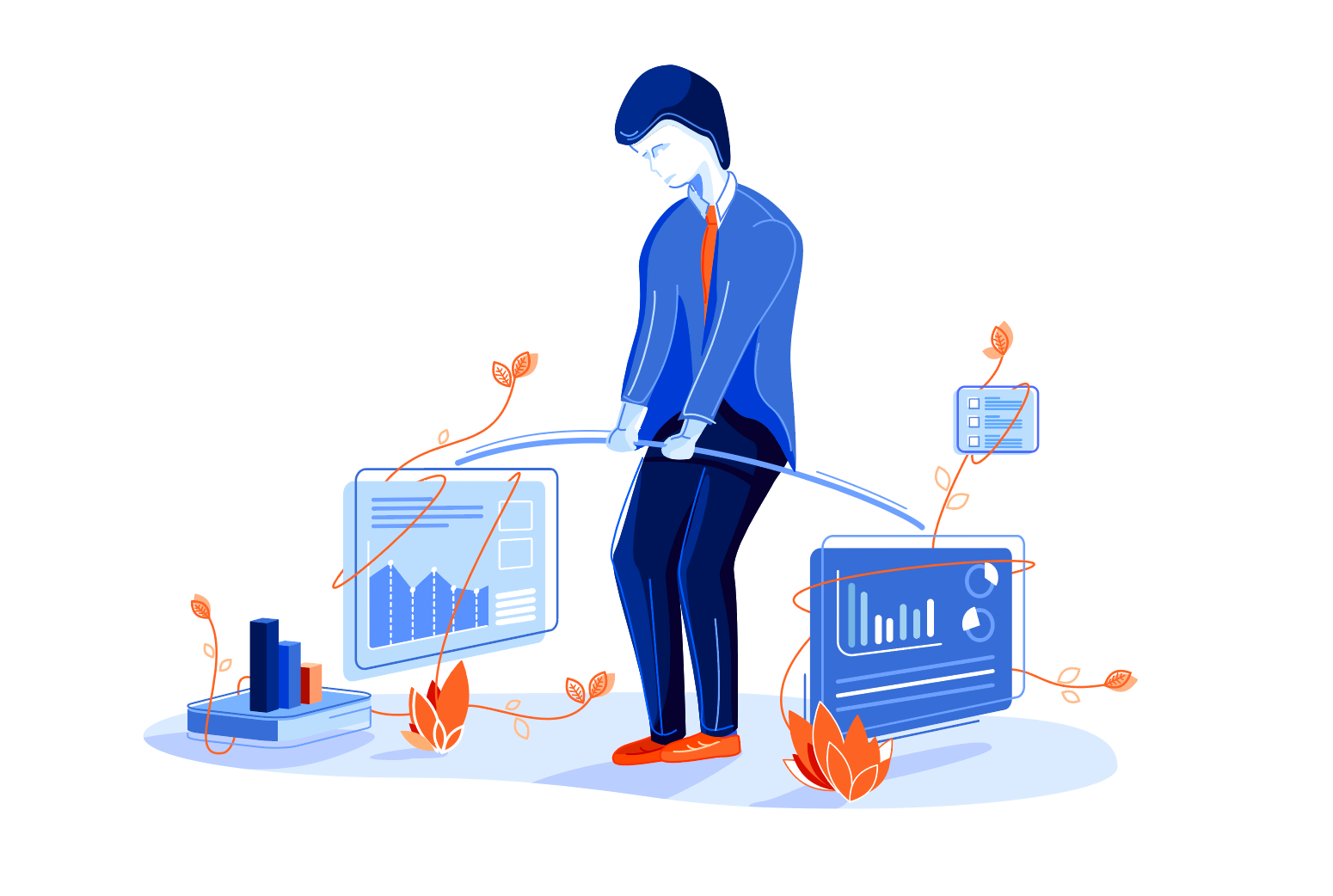 "SEO is like exercise. It's important, but boring and hard to get motivated."
What if SEO stopped feeling like a boring and repetitive slog, and actually became a fun and effective daily habit?
THE SOLUTION
SEOBUDDY makes analyzing search results quick and easy
In short, 20-minute sprints, you'll find the SEO insights you need to start climbing the rankings. And SEOBUDDY keeps track of the results and websites you've reviewed so you never have to waste time analyzing the same search result again.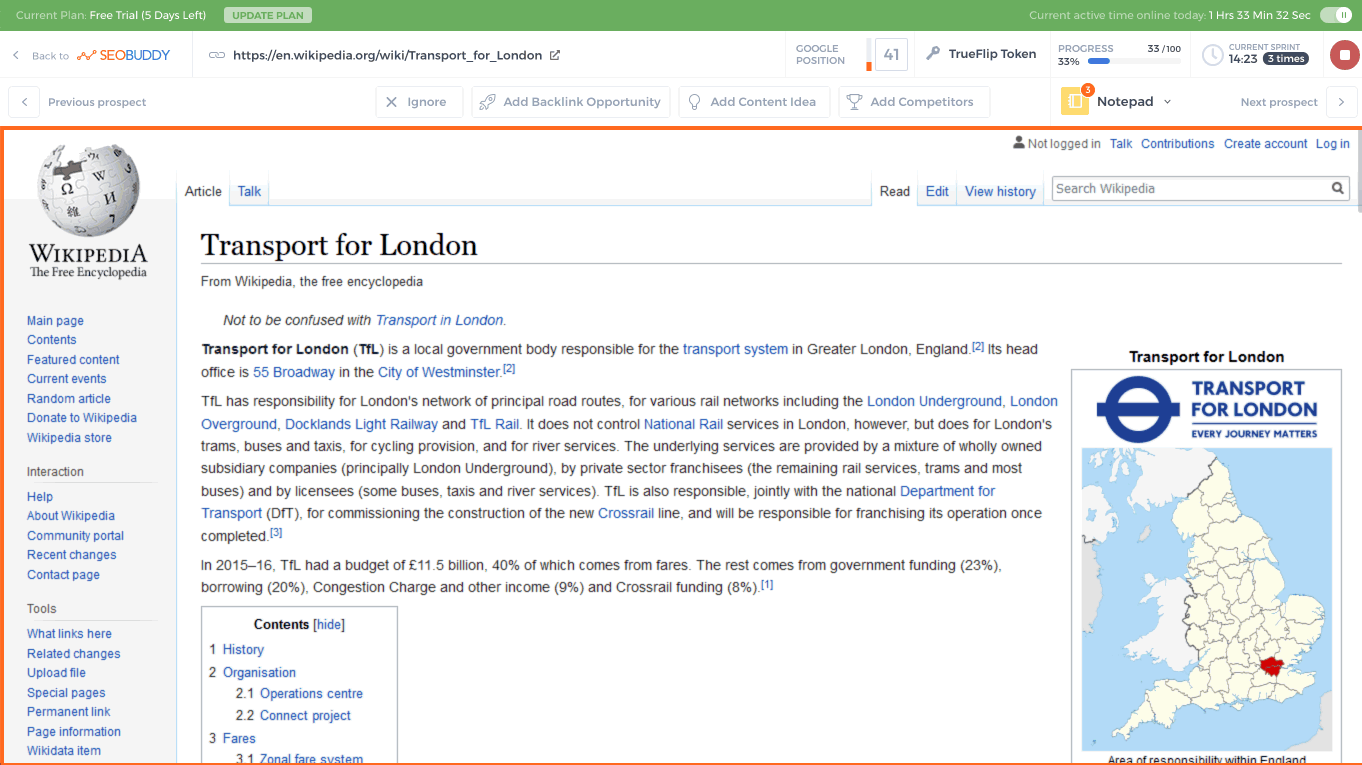 You're presented with the top 100 results for each of your target keywords.
You review a result and can

categorize the opportunities

in a single click.
You can then

easily manage

the backlink opportunities, content ideas as well as keep track of competitors.
THE STRATEGY
Understand your competitive landscape
To rank for a keyword, you need to know what's currently ranking and understand the why. This is exactly why analyzing Google search results is an essential SEO task. But Google releases changes to their algorithm at an average rate of 9 times per day.
This makes keeping track of everything manually a complete mess and you'll end up having to evaluate the same results and review the same websites over and over again.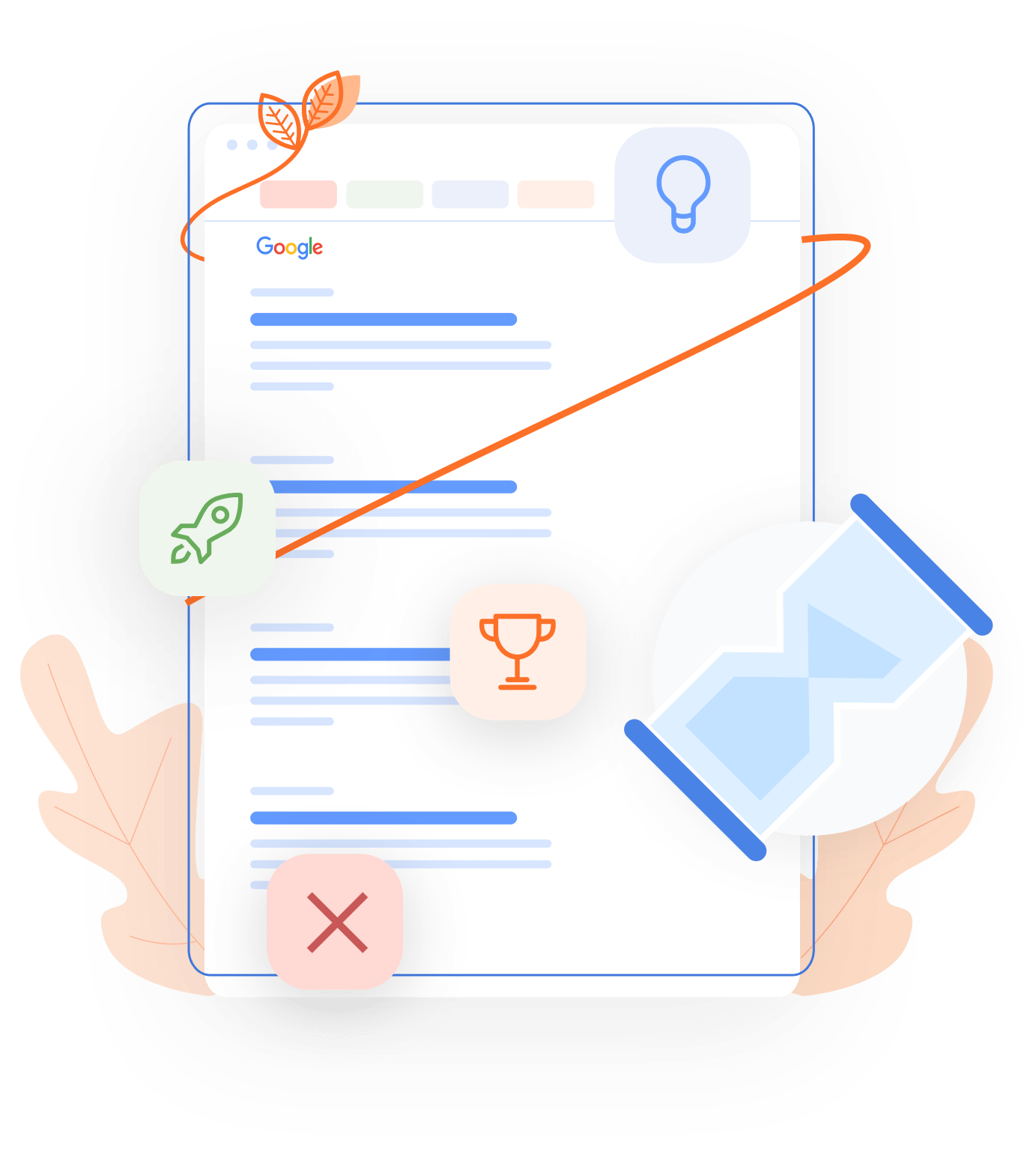 Your monthly search analysis is now more organized, effective and lightning fast
RESULT #1
Hunt the most relevant backlinks
Not all backlinks are created equal. Links pointing to your site from higher quality websites are seen by Google as a bigger vote of confidence in your content.
Find new untapped backlink opportunities.
Make sure you're pursuing the most valuable and relevant backlinks
See what high authority domains could link to your content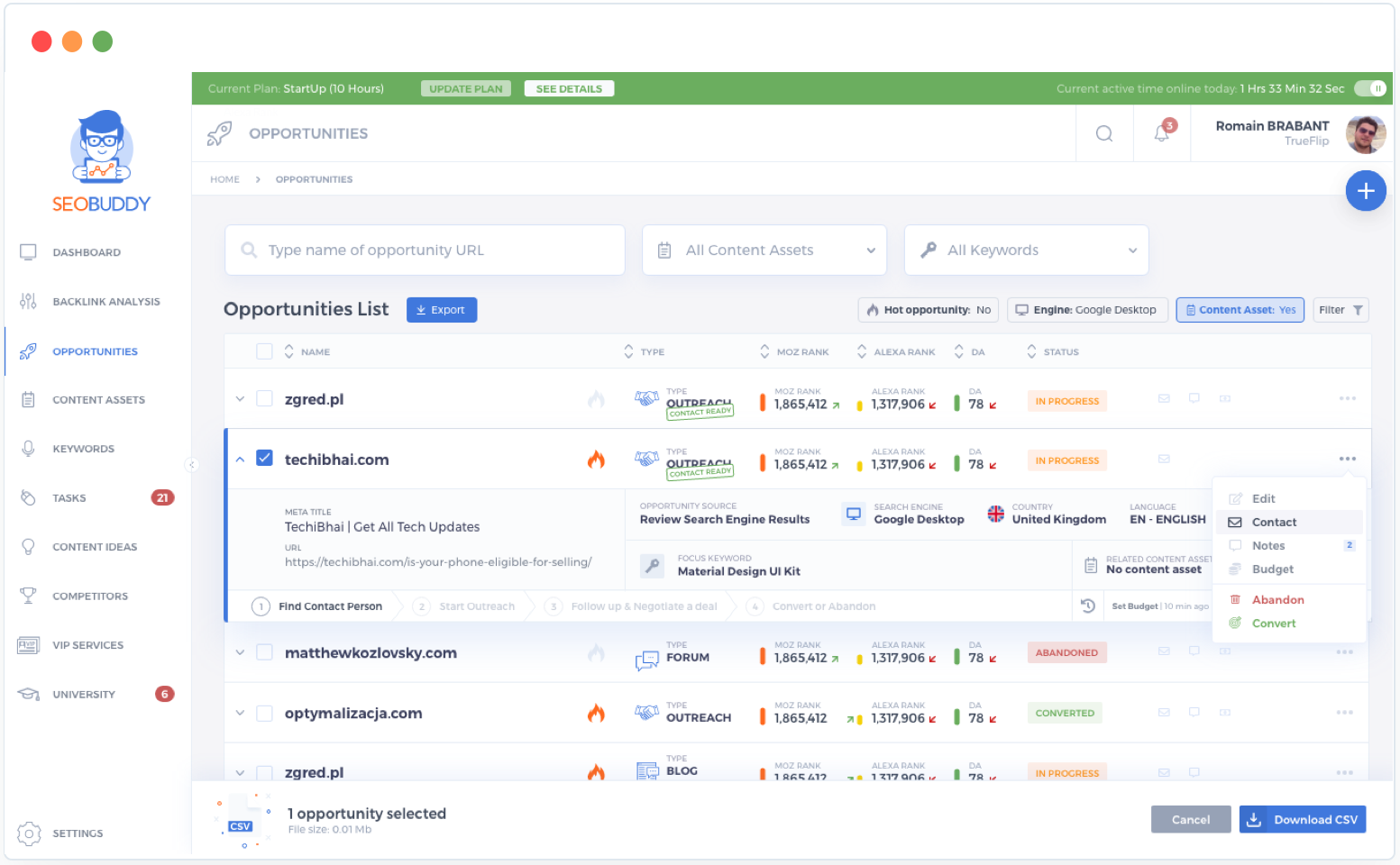 RESULT #2
Discover great content ideas
To rank well for your keywords, you need to create awesome content. How do you do that? See what's already working and then make it better.
Discover the most popular content online for any topic.
Get lucrative content ideas based on your target keywords.
Learn how to improve your existing content so it ranks better.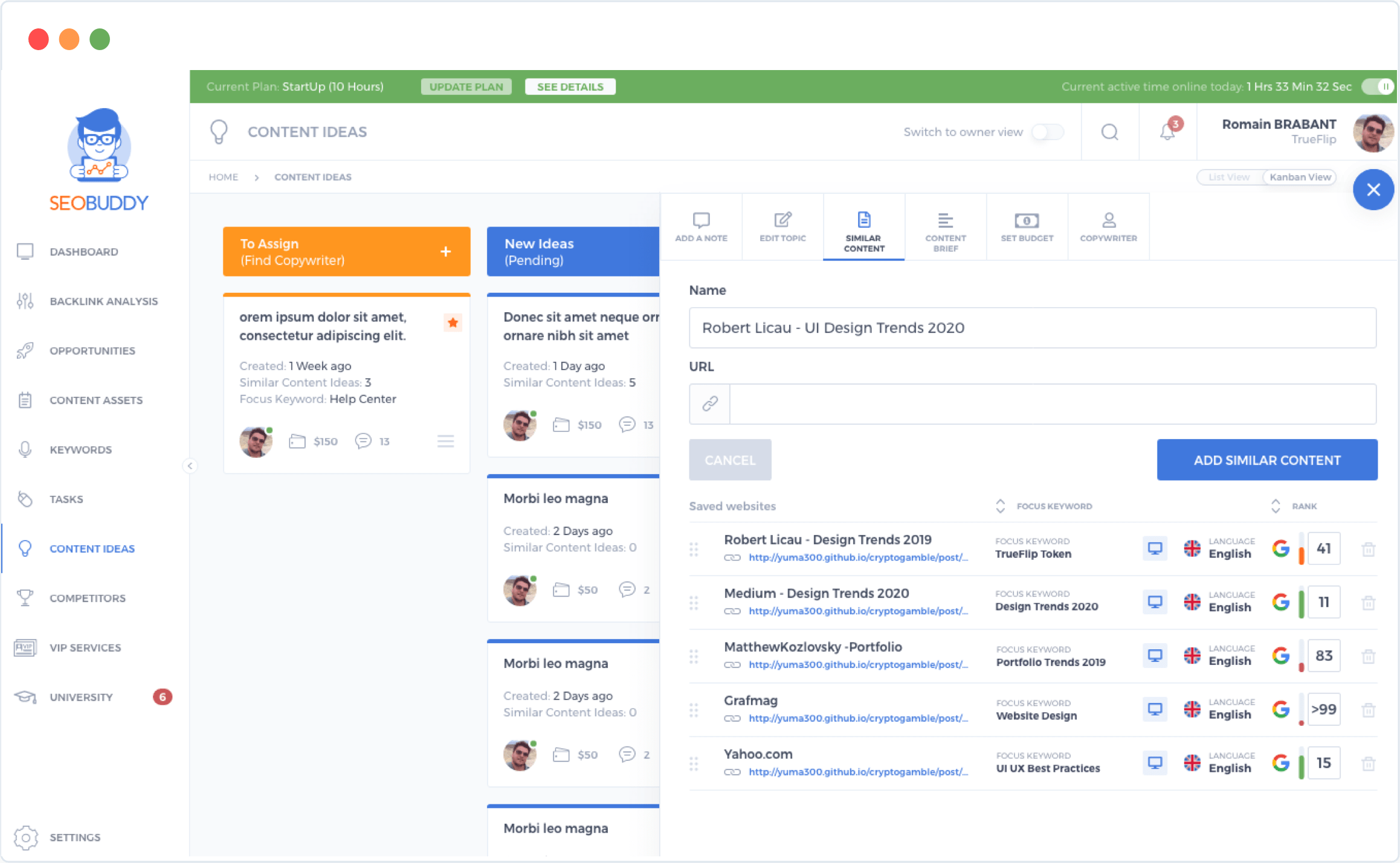 RESULT #3
Start spying on your competitors
Before you can beat your competitors, you need to know what you're up against. SEOBUDDY will help you learn exactly how to outrank them.
What's driving traffic to their site?
What important backlinks do they have that you can get?
What content assets bring them the most success?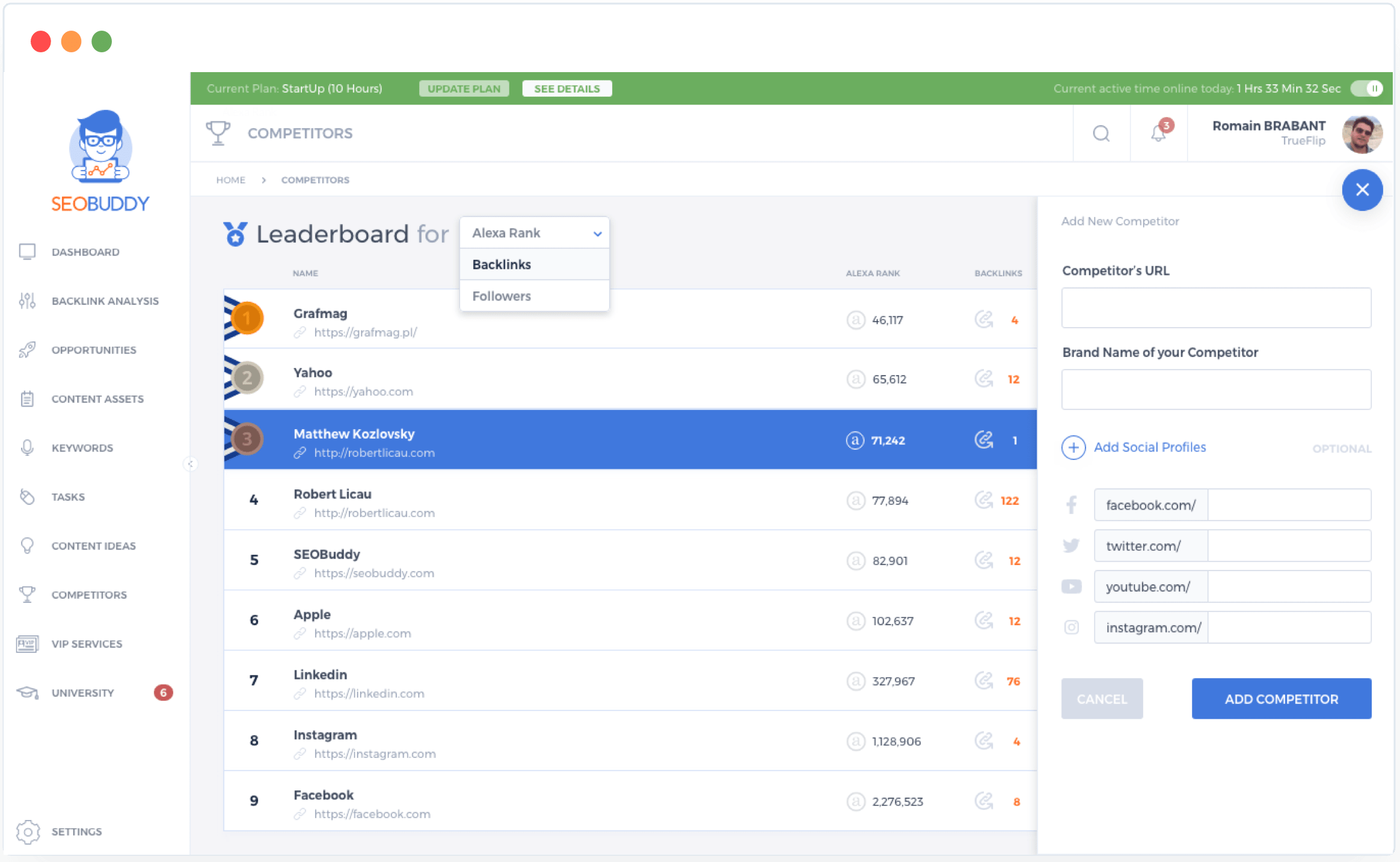 Making it easy to analyze search results is just the start
SEOBUDDY is an SEO productivity tool packed with everything you need to grow your search traffic, outsmart your competitors and take control of your entire SEO strategy.
The secret to SEO success is
consistent

action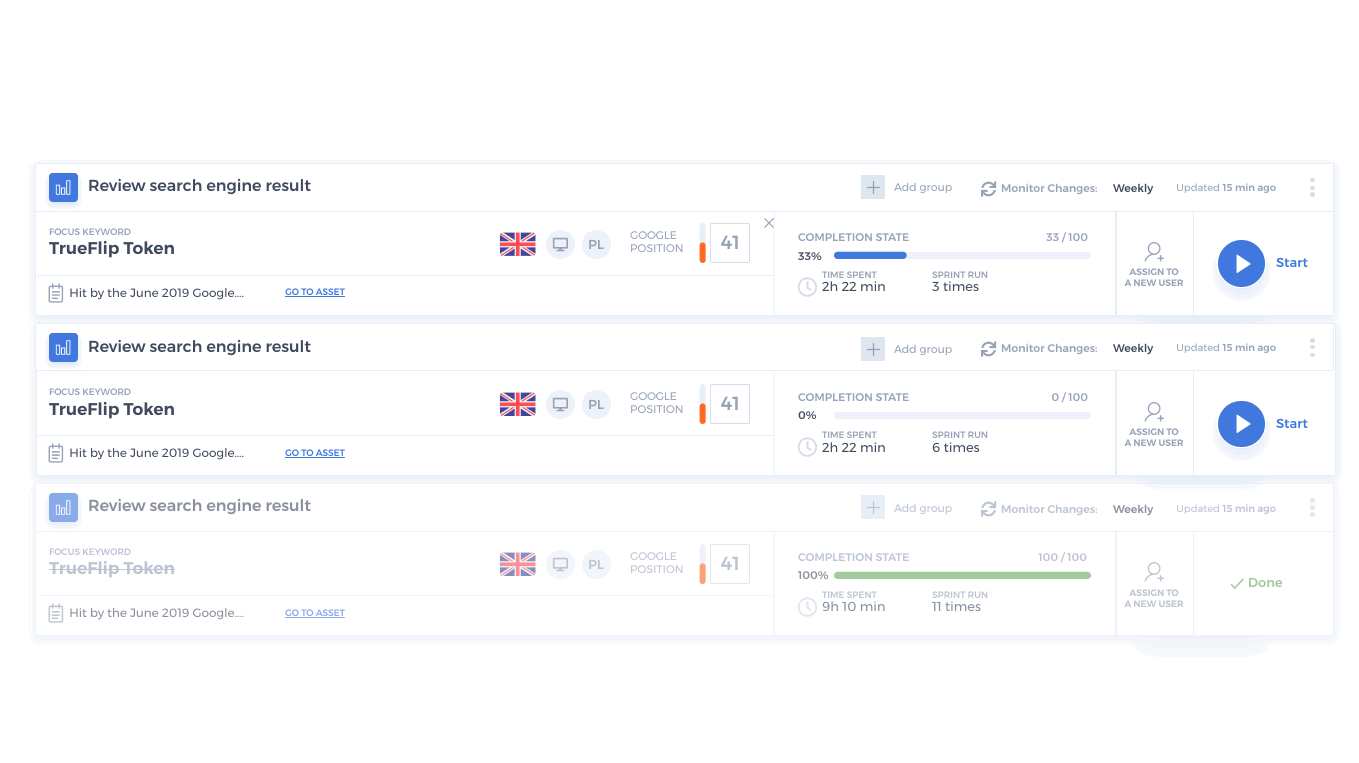 Like learning to play a musical instrument, if you take a few small steps forward every single day, you'll achieve amazing results. With SEO, most people can't maintain that kind of consistency, so their efforts fail.
And that's the magic of SEOBUDDY – it helps you make consistent progress.
SEOBUDDY automatically generates SEO tasks for you to complete. So you'll finally know exactly what needs to be done.
It turns a daunting list of tasks into daily bite-sized missions for your team to complete.
Instead of getting overwhelmed by all the data and disheartened by the scale of the challenge, let your team focus on the daily tasks that will drive real SEO results.
Easily monitor and manage your team's SEO activity
Manage all the backlinks you have in one handy database, and convert the opportunities you've identified into SEO boosting links.
Manage all team activity without the need for time wasting emails and spreadsheets.
See at a glance what individuals are doing and monitor how well they're performing.
Give your team visibility of their activity and targets, and incentivize top performers.
Quickly and easily onboard new team members, such as a freelance writer or analyst.
Start a 7-day risk free trial
No credit card required
Fast and friendly support
I did SEO the hard way. I built SEOBUDDY so you don't have to struggle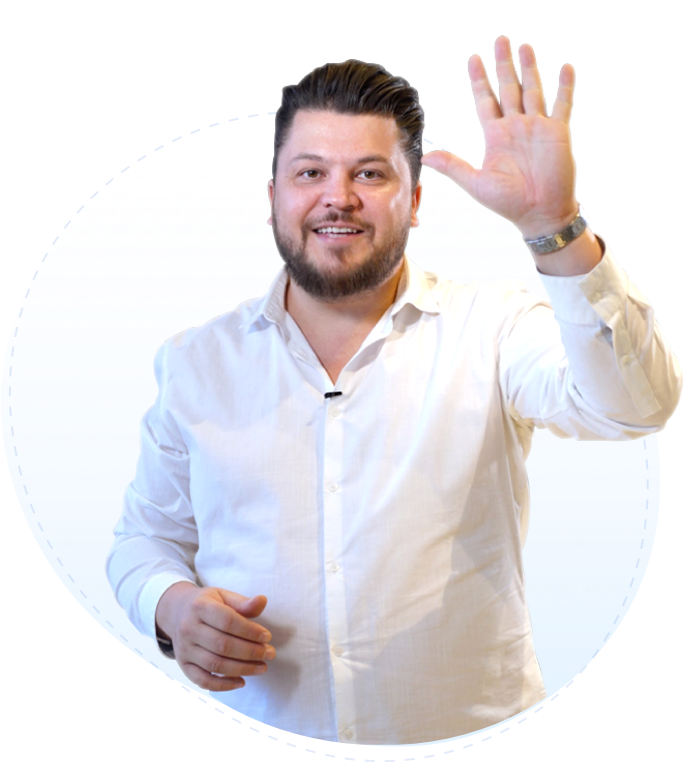 I'm Romain, founder of SEOBUDDY. I'm an entrepreneur with a few successful businesses under my belt (and a few failures, too).
SEO has always been fundamental to my success. But I did SEO the hard way. I've made mistakes. I've wasted time. And I've spent car loads of cash on SEO agencies (at least half a million dollars over the last decade).
I learnt how to win the SEO game. It was just never easy and I kept bumping up against the same issues…
Good SEO agencies are expensive, and the results tend to plateau over time.
Doing it yourself requires a lot of time and military-grade organizational skills.
And SEO isn't a long-game, it's a never-ending game, so it's hard to stay focused.
So I built SEOBUDDY to break down SEO into manageable bite-sized chunks. To make it easy for you to manage your team. And to give you control over your SEO efforts.
I'd like to invite you to a 7-day free trial. You'll see the value in the first 20-minutes!
While others struggle to stay organized, stay focused and stay consistent, your team will achieve SEO success one easy step at a time.
Start a 7-day risk free trial
No credit card required
Fast and friendly support